4. INCLUDE A UNILATERAL MOVEMENT TO WORK EACH LEG INDIVIDUALLY
Your next leg day awaits! If you're up to the challenge, this 6-step thigh and glute workout will help you build bigger wheels. Don't fear it. Just try it!
First things first: You can track down the so-called "World's Best Mass-Building Leg Workout"—yes, it exists—or thousands of lookalikes, but none of them will mean squat, pun intended, if you can't push yourself hard in the gym. On leg day more than any other, effort correlates with success. In order to build bigger legs, hamstrings, and glutes, you must want to quit—and then not succumb to that wish.
And then, of course, you still need to follow a well-constructed routine. Sure, you can put a hurtin' on your quads with endless triple dropsets of leg extensions that'll surely have you screaming in pain, but that alone isn't going to get you growth. The burn is part of the plan, but not all of it.
SQUATS ARE THE OBVIOUS PLACE TO BEGIN YOUR LEG-DAY THRASHING.
The approach here is nothing earth-shattering. It's built around the fundamentals, arranged in time-proven sequences and rep ranges. It's effective, but just to be clear, it's not for beginners. Several of the movements are technically challenging—more than they often get credit for, in the case of back squats and front squats—so you must take the time to become proficient at them before going heavy.
4. INCLUDE A UNILATERAL MOVEMENT TO WORK EACH LEG INDIVIDUALLY
Now that you've got the heavy bilateral work out of the way, it's time to work each of your legs individually. The Bulgarian split squat, where you stabilize your rear leg on a bench behind you, is an ideal choice. Elevating your rear leg forces the front thigh, especially the quad, to pick up more of the workload, while also torching the glute of that leg. If the balance component is too difficult at first, you can substitute with split squats or lunges. In a pinch, you can do these on the Smith machine.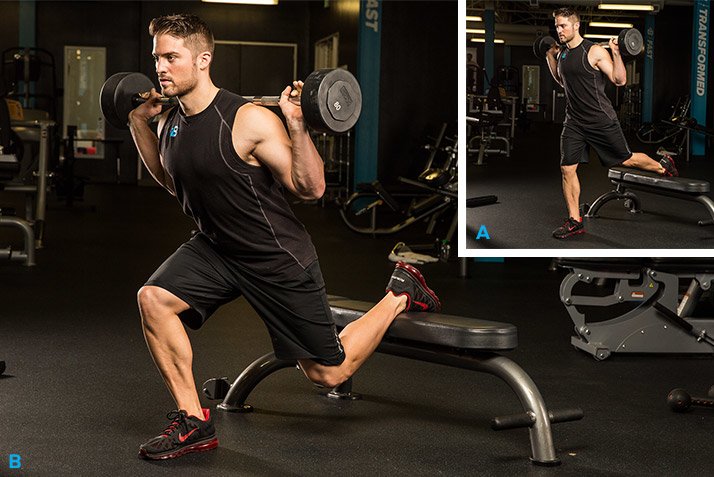 BULGARIAN SPLIT SQUAT
Don't let the fact that you can't load these up like back squats fool you into thinking this is a weak movement. On the contrary, it's a leg builder of the first order, according to strength coach and researcher Parker Hyde. "Some EMG evidence suggests that 4 sets with your 10-rep max with Bulgarians aren't too different from back squats," Hyde says. "The same study also found similar testosterone responses to Bulgarians and back squats." 1
MAKE IT MONSTER
You can't use much weight on this movement, even if you didn't precede it with the other squats. Shoot for 3 sets of 10 reps, alternating sides.
STAYED TUNED FOR EXERCISE 5 NEXT WEEK
By Bill Geiger @BodyBuilding.com